Posted 17th Aug 2015
Pentathlon GB's Jan Bartu inducted into Team Bath Hall of Fame for Sport
On the eve of the Modern Pentathlon European Championships at the University of Bath, Pentathlon GB's long-serving National Performance Director Jan Bartu has been inducted into the Team Bath Hall of Fame for Sport.
Bartu established the National Training Centre at the University of Bath in 1998, implementing the Performance Pathway System which has seen modern pentathlon become one of Britain's most successful Olympic sports.
Under his guidance, medals have been won at each of the last four Games, starting with a historic gold for Stephanie Cook and bronze for Kate Allenby at Sydney 2000.
Georgina Harland also won bronze four years later in Athens and Heather Fell took silver at Beijing 2008.
University of Bath graduate Samantha Murray famously won Team GB's final medal of London 2012, also a silver, and is one of three pentathletes to be crowned as World Champion during Bartu's tenure – the others being Cook in 2001 and Mhairi Spence in 2012.
Following his induction into the Team Bath Hall of Fame for Sport by University of Bath Director of Sport Stephen Baddeley, Bartu thanked the athletes and coaches he has worked with during the past 17 years as well as Pentathlon GB funding partners UK Sport and Sport England.
He added: "I would particularly like to thank Pentathlon GB for giving me the opportunity to fulfill this role and our partners at the University of Bath.
"When I first started working here, there was a spark straight away. The Sports Training Village wasn't here at the time but now, look around – it is a ground-breaking achievement and we are absolutely thrilled to be a part of it."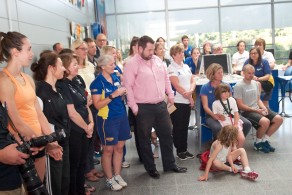 Bartu enjoyed a successful modern pentathlon career of his own, winning individual bronze and team silver while representing his native Czechoslovakia (now the Czech Republic) at the Montreal 1976 Olympic Games.
He also competed at the Moscow Games four years later before becoming Technical Director of Czechoslovakian Pentathlon in 1986.
Bartu held that role for four years before serving as Head Coach with the Mexican national team from 1990 to 1994 and the US Pentathlon Association from 1995 to 1997.
He assumed his current role with Pentathlon GB in April 1998 and is one of the longest serving Performance Directors in British sport.
One of his ambitions was to see a major championships staged at Pentathlon GB's University of Bath home and that dream will be realised this week.
The 2015 European Championships, taking place at the Sports Training Village from Tuesday until Sunday, will bring together more than 100 of the continent's top all-round athletes.
The top eight in both the men's and women's competitions will secure a qualification spot for the Rio 2016 Olympic Games.
"I have been working here in Bath since 1998, before the Sports Training Village was built, and it has always been my dream to stage a big event here where we train every day," said Bartu.
"It is quite magical for me and my coaching team to finally realise this ambition."
Tickets for the European Championships are on starting at just £6 for adults, while under-18s can attend for £1.
As well as the individual and team competitions, there will be opportunities during breaks in the action to try out some of the individual sports which make up modern pentathlon – fencing, swimming, horse riding and a combined run and shoot event.
For more information or to purchase tickets, visit pentathlongb.org/euros2015.
Bartu is the sixth inductee into the Team Bath Hall of Fame for Sport, following Olympic skeleton champion Amy Williams, athletes Jason Gardener and Ben Rushgrove, former University of Bath Director of Sport Dr Tom Hudson and former Team Bath Netball head coach Lyn Gunson.
The inspiration for a generation of netball players and coaches, Gunson became the first coach to be inducted into the Hall of Fame earlier this month.
Gunson, nee Parker, captained the New Zealand netball team for 12 years during an outstanding player career before coaching the Silver Ferns to an incredible 45 wins from 49 test matches during the 1990s.
Her multi-dimensional, player-led approach then helped to revolutionise netball both with Team Bath and England following her move to the University of Bath in 1999, initially to study for a doctorate.
Dozens of players under Gunson's guidance went on to enjoy successful careers both at international level and in the fledgling Superleague, with Team Bath winning the first two titles under her leadership.
Among the players whose talent Gunson nurtured are a host of England internationals past and present including Ama Agbeze, Eboni Beckford-Chambers, Clare Elsley, Stacey Francis, Serena Guthrie, Sara Bayman, Jo Binns, Sasha Corbin, Rachel Dunn, Lindsay Keable, Geva Mentor and Gemma Stewart.
Two other internationals, Jess Thirlby and Tamsin Greenway, have gone on to enjoy success as coaches, leading Team Bath and Surrey Storm to the Superleague titles in 2013 and 2015 respectively.
Former England coach Anna Mayes was also mentored by Gunson, who is passionate about the development of coaches.
She was appointed as leader of the English Performance Coaches Programme during her time with England Netball, which saw her coach the national squad during the Manchester 2002 Commonwealth Games and the 2003 World Championships.
Gunson also worked with the under-21s and became the first overseas person to be granted life membership of England Netball.