Posted 20th Jun 2015
Almost 1,000 visitors enjoy successful Community Activity Day at the STV
Commonwealth swimming champion Siobhan-Marie O'Connor started the Olympic Day Run to crown a successful Team Bath Community Activity Day at the University of Bath on Saturday.
Nearly 1,000 guests of all ages paid a visit to the world-class Sports Training Village facilities, enjoying a wide range of sports and activities.
The centrepiece was the annual Olympic Day Run over 5m and 3km, which got under way when London 2012 Olympian O'Connor – who trains at the British Swimming National Training Centre, Bath – sounded the horn to release hundreds of runners.
Speaking of the day, the 19-year old said she was delighted to be "giving something back to the community."
"It's great to be here and to celebrate the spirit of the Olympics," said O'Connor, who will compete at the World Championships in Russia next month.
"London 2012 was such a great experience for me and I feel very lucky to have taken part.
"I went to events similar to this when I was younger. These are the events which allow you to find your love for sports.
"It's a really good experience for the youngsters and it's a great chance to try out athletics or any other sports here. This is definitely a proud moment for me."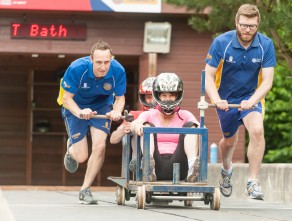 Other popular activities included experiencing the upgraded bobsleigh push-track, taster sessions for a variety of sports including tennis, beach volleyball, fencing and hockey, and dance sessions in the new The Edge art complex on the University of Bath campus.
There was also the chance to race Olympian Stacey Tadd in the London 2012 Legacy Pool and a modern pentathlon challenge ahead of the European Championships, which are being staged at the University of Bath from August 18-23.
The day represented an opportunity for parents to introduce their youngsters to sports not offered at school and whole generations of families got the chance to try out the inspiring facilities used by some of the country's top sportspeople.
"My little ones have really enjoyed going around trying the different sports," said one mother of two. "We have been involved in the Olympic Day Run, tennis, and we're about to the try the sprinting.
"Some sports are already covered at school like netball and tennis but it's great to have sports like judo and fencing, for example, where the kids wouldn't have had the chance to try them out before.
"It's about having the opportunity to experience those new things."