Posted 18th Jun 2015
Swimming star Siobhan-Marie O'Connor to start Olympic Day Run at University of Bath
Commonwealth swimming champion Siobhan-Marie O'Connor will act as official starter for the annual Olympic Day Run when it takes places at the University of Bath on Saturday.
Being staged over a 5km course at the Sports Training Village or 3km for under-16s, the run will start at 2pm and is the centerpiece of the Team Bath Community Activity Day.
Hundreds of people have taken part over the past few years in the run, an international Olympic Movement activity promoting mass participation in sport.
Last year's race was started by former Modern Pentathlon World Champion Mhairi Spence and the honour this year goes to O'Connor, who trains with the British Swimming National Training Centre at the University of Bath.
To sign up for this year's run or for more information, visit https://www.teambath.com/2015/05/07/community-activity-day/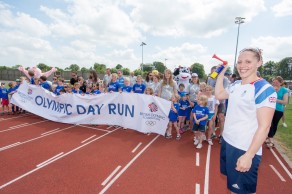 The Team Bath Community Activity Day will take place from 12-4pm on Saturday, June 20. Among the free activities on offer are the chance to race Olympic swimmer Stacey Tadd in the London 2012 Legacy Pool, bobsleigh sessions on the upgraded push-track, a modern pentathlon challenge and an outdoor climbing wall.
There will be coaching sessions in tennis, badminton, netball, trampolining, athletics, hockey, rugby and football, plus dance classes in our new The Edge complex.
Expert physiotherapists, nutritionists and sport scientists will also be on hand throughout the afternoon to provide guidance, advice and support for sustaining a healthy lifestyle.