Posted 13th Apr 2015
Team Bath Netball tame Celtic Dragons to end Superleague season on a high
Team Bath Netball finished their Superleague season on a high note as they beat Celtic Dragons 50-34 at the Sports Training Village on Monday.
The hosts trailed by one point after a below-par first period but were the better team after that and went on to win the remaining three quarters as they secured fifth place in the table.
It is the first time in Superleague history that Team Bath have not qualified for the semi-finals but head coach Jess Thirlby said it was important her team ended the season on a positive note.
"Tonight was about putting in the best performance that we could," she said. "And while there were some errors, I really felt you could see our players putting their hearts and soul out there to ensure we finished on a high.
"It was great to win for the fans as well. They have stuck by us all season and we know they will always be there for us, win or lose.
"We have not performed at critical times this season and that has cost us a semi-final place but we have to keep perspective. I am not one for making excuses at all but we have to acknowledge the number of changes that have been made to the squad.
"It is not like with football or rugby, where you have an eight-month season. Our season is just three months and it goes by so quickly.
"If we'd had another month or so, given how our performances have improved during the second half of the season, who know what we could have achieved?"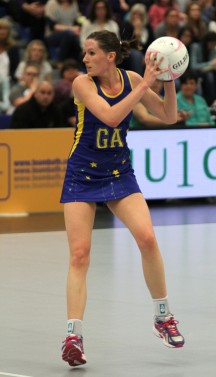 That view was echoed by captain Asha Francis, pictured, who took the player-of-the-match honours in the televised match against Dragons.
"It does not always come together in just one season," she said.
"There have been periods in virtually every game which have let us down and it is about learning to keep a cool head under pressure.
"You can see that is starting to happen, though, and we have made huge strides during the season. It has been tough but we have learnt so much that we can take into next year."
Shaunagh Craig was picked at goal-shooter ahead of Rosie Allison in the only change to the Team Bath seven which had started last week's 51-45 defeat at Loughborough Lightning.
But despite Craig opening the scoring, it was an error-strewn start for Team Bath and they soon found themselves 4-1 adrift.
Thirlby called a time-out and it seemed to have a positive effect, with Team Bath beginning to pass with greater accuracy and pulling the score back to 6-6.
Francis then scored twice in quick succession to put the hosts ahead but Dragons' Chelsea Lewis replied with a brace of her own, taking her tally for the season to 400 goals.
Emma Thomas and Francis exchanged goals before Lewis scored again with the last action of the quarter to give Dragons a narrow 10-9 advantage.
Lewis had the first word in the second quarter but, despite Craig and Francis both struggling at times for shooting accuracy, Team Bath managed to turn it around and open up a 13-11 lead before Dragons called a timeout.
Team Bath now had the upper hand, though – albeit with the occasional error still being made – and they extended their advantage to 20-13 as Craig and Francis began to find the net more consistently.
With an increasingly dominant Sam Cook and Bessie Manu forcing Dragons into mistakes at the other end, Team Bath were able to take a 22-14 lead into half-time.
Dragons made two changes for the third quarter, with Nic James replacing captain Suzy Drane at centre and Steph Myddleton coming in for Lateisha Kidner at goal-defence.
And with Lewis rediscovering her range, the visitors were able to close the gap to 23-17 but that was as close as they got as the two teams went goal for goal for the next ten minutes.
Team Bath then scored four times in the last 90 seconds, with Dragons replying just once, to ensure they edged the third quarter 12-11 and led 34-25 going into the final period of the season.
Thirlby made a switch in defence, with Cook and Manu swapping positions, and Allison came on for Craig in attack.
And the goal-shooter was quickly in the swing of things, scoring five unanswered goals in her first three minutes on court as Team Bath turned the screw.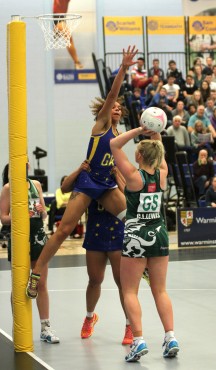 Allison went on score 14 times as Team Bath saw out a comfortable 50-34 victory, with Scarlett Williams and Yazmin Parsons coming on at wing-defence and wing-attack for the last five minutes.
Stacey Francis and Sam Cook received bouquets after the match as a congratulations on being named in the England squad for next month's three-match international series against Trinidad & Tobago.
The first of those matches will take place at the Sports Training Village on Wednesday, May 6 (7.15pm) and tickets are available from http://tickets.sky.com/Netball/International-Netball-Series
Tickets are also on sale for Team Bath Netball's end-of-season dinner, where fans can meet their favourite Superleague stars, coaches and members of the Netball Performance League (NPL) squad.
It is taking place at The Tramshed in Bath city centre from 4.30pm on Sunday, April 26 and season-ticket holders can attend for free – simply email Shaunagh Craig on sc837@bath.ac..uk to confirm attendance.
All other fans can attend for just £5 per person. To book a place, go to the Online Store at www.teambath.com.
Carter Jonas are Team Bath Netball's property partner, Surridge are the Team Bath kit supplier and Skins provide the team with compression wear.
Team Bath
Starting Seven
GS Shaunagh Craig; GA Asha Francis; WA Rachel Shaw; C Mia Ritchie; WD Claire Brownie; GD Bessie Manu; GK Sam Cook.
Bench: Rosie Allison, Lauren Dent, Kyra Jones, Yasmin Parsons, Scarlett Williams.
Changes: Q4: Craig GS – bench; Allison bench – GS; Cook GK – GD; Manu GD – GK; Brownie WD – bench; Williams bench – WD; Shaw WA – bench; Parsons bench – WA.
Shooting stats: Craig 21/32; Francis 15/22; Allison 14/16.
The full 2015 Team Bath Netball Superleague squad is: Rosie Allison, Sam Cook, Bessie Manu, Mia Ritchie, Scarlett Williams, Jenna Murie, Rachel Shaw, Lauren Dent, Claire Brownie, Asha Francis, Kyra Jones, Jazz Scott, Stacey Francis, Shaunagh Craig, Yasmin Parsons.
Coach: Jess Thirlby. Assistant coach: Denise Ellis.
Celtic Dragons
Starting seven
GS Chelsea Lewis; GA Emily Thomas; WA Bethan Dyke; C Suzy Drane; WD Carly Lewis; GD Lateisha Kidner; GK Kelly Morgan.
Bench: Sara Bell, Cathy Bastian, Nic James, Steph Myddleton, Eleanor Roberts.
Changes: Q3: Drane C – bench; Kidner GD – bench; James bench – C; Myddleton bench – GD. Q4: Carly Lewis WD – bench; Morgan GK – bench; Bastian bench – WD; Kidner bench – GK.
Shooting stats: Lewis 27/38; Thomas 7/10.
The full Celtic Dragons Superleague squad is: Kelly Morgan, Lateisha Kidner, Nia Jones, Steph Myddleton, Stephanie Williams, Nichola James, Bethan Dyke, Carly Lewis, Cathy Bastian, Sophie Morgan, Suzy Drane, Cara-Lea Moseley, Chelsea Lewis, Emma Thomas, Sara Bell.
Coach: Trish Wilcox. Assistant coach: Jamilla Abbot.
Quarter scores (Team Bath first):
Q1: 9-10. Q2: 22-14 (13-4). Q3: 34-25 (12-11). Q4: 50-34 (16-9).
You can find out more about Team Bath on our website teambath.com
You can also follow Team Bath at twitter.com/teambath or facebook.com/teambath
You can follow Team Bath Netball at twitter.com/TeamBathNetball
For further information please contact the Team Bath press office at Matchtight Ltd on 01225 383518 by email at press@matchtight.co.uk