Posted 6th Mar 2015
Team Bath win keeps play-off hopes alive
Team Bath played a performance of true grit and determination at the University of Bath's Sports Training Village to keep their hopes of a Superleague play-off place alive.
In a pulsating fixture they defeated Loughborough Lightning by 45-43.  The home side was five goals adrift early in the match and in the final quarter had the crowd off their seats as they held their nerve to close out the win.
Coach Jess Thirlby, who stuck to the same seven players throughout, said:  "Tonight we showed greater coordination with one another and we stuck to the task. I'm really pleased with the performance.
"It was really positive to build that lead and that last quarter was a reminder that we need to be able to handle pressure".
Team Bath, the 2013 champions but with a new and developing squad this year,  went into tonight's fixture equal on points with Loughborough but ahead on goal average.
The home squad had just achieved a well-fought away win against the 2013 finalists Celtic Dragons – a confidence booster after three successive defeats.
Loughborough's squad for the 2015 season has been bolstered by a trio of African imports – South Africa's captain Maryka Holtzhausen and defender Phemza Maweni and Ugandan Peace Poscovia.
The tension was quite palpable as both sides took to the court.  Tonight was a big match for both line-ups.
In the first quarter the home side, roared on by 1800 fans, moved to an early 3-1 lead but were pegged back to 3-3 and then went behind 5-8 and 7-10 and then 8-13 at the break.
The visitors' African trio proved the key difference.  In attack the Loughborough mid-court were able to reach either Proscovia or Holtzhausen at will whereas Team Bath were made to work very hard to reach their shooters.
In defence Phuma Maweni had enough height to nullify home-shooter Rosie Allison for much of the opening quarter.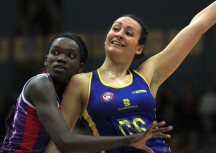 It was not until mid-way through the second quarter that the momentum shifted almost imperceptibly to the blue and gold squad.
World-class defenders Stacey Francis and Sam Cook began to turn over the ball and Cook was particularly effective against Poscovia.
At the opposite end, Rosie Allison shook off the close attentions of Phuma Maweni  as Asha Francis moved wide to give more options in attack and linked well with Rachel Shaw at wing-attack.
"We managed to keep the defence in two minds and that helped us shift the game in our favour. We are still a new side and we are learning to work together. It's just that we have taken a little longer than we hoped".
The score moved from 12-17 to 17-19. Asha Francis and Allison were both penalised for contact in this period stalling the moment that Team Bath hauled themsleves back to even the score at 21-12 just a minute and thirty seconds before the break.
Another Stacey Francis turn-over provided the platform for them to go in 23-12 at half-time.  Francis was later named "Player of the Match".
Team Bath clung to that two-goal margin for the opening 10 minutes of the third quarter before some well-won turn-over and some superb shooting under pressure saw the home side eke out a five goal lead at 36-31 with a minute and thirty seconds to go.
In this period Ritchie and Shaw worked patiently and tirelessly around the circle, linking back to Francis and Claire Brownie, to protect the ball and keep possession and find the openings.  Team Bath added a final goal in the dying minute of the quarter before snatching the ball back in defence to lead by six with fifteen minutes to go.
"It was good to see the team working on different things and making those tactical decisions out there", said Thirlby.
Some great work from captain and goal-attack Asha Francis saw Team Bath hold onto their lead but with seven minutes to go the pendulum had swung again in favour of the visitors who clawed their way back into the match at 39-41 and then 41-43.
At goal-attack Vanessa Walker had begun to prove an athletic challenge for Stacey Francis and in attack the gazelle-like Proscovia recovered some remarkable ball around the post to score at the other end.
At 40-43 the Loughborough goal-keeper was called for contact and it gave Team Bath the change to move out to 41-44.
With the clock ticking down the home side held their nerve through an edgy final two minutes in which both sides were penalised multiple times to close out the win at 45-43.
Team Bath's next home match is next Friday (13th March) against Team Northumbria before a televised away fixture against Surrey Storm on Tuesday March 17th.
Carter Jonas are Team Bath Netball's property partner, Surridge are the Team Bath kit supplier and Skins provide the team with compression wear.
Team Bath
Starting Seven
GS: Rosie Allison GA:  Asha Francis;  WA: Rachel Shaw, C:  Mia Ritchie; WD: Claire Brownie, GD: Stacey Francis, GK: Sam Cook
Bench:  Scarlett Williams, Shaunagh Craig, Jenna Murie, Kyra Jones, Yasmin Parsons.
Changes:   None.
The Full 2015 Team Bath Netball Superleague squad is:
Rosie Allison, Sam Cook, Bessie Manu, Mia Ritchie, Scarlett Williams, Jenna Murie, Rachel Shaw, Lauren Dent, Claire Brownie, Asha Francis, Kyra Jones, Jazz Scott, Stacey Francis, Shaunagh Craig, Yasmin Parsons.
Coach:  Jess Garland, Assistant coach:  Denis Ellis
Shooting stats:  Allison 32 from 35:  91.4%; Francis 13 from 17 76.5%
Loughborough Lightning
Starting seven
GS:  Peace Proscovia, GA: Maryka Holtzhausen, WA Rachel Henry, C Fran Desmond, WD Lauren Steadman, GD Rachel Forbes, GK Phumza Maweni
Bench:  Niamh Cooper, Flo Edwards, Hannah Joseph, Lauren Massey, Vanessa Walker.
Changes: Q2:  Desmond C – Bench; Edwards Bench – WA; Henry WA – C; Q3:  Forbes GD – WD; Holtzhausen GA – Bench; Steadman WD – Bench; Walker Bench – GA
Shooting stats:  Prosovia 36 from 38:  94.7%; Holtzhausen 2 from 3:  66.6%; Walker 5 from 5:  100%.
Quarter scores (Team Bath first):
Q1: 8-13; Q2:  (23-21) 15-8; Q3:  14-10 (37-31); Q4: 8-12  (45-43)
The full Loughborough Lightning Superleague squad is:  Rachel Henry, Lauren Steadman, Racgel Forbes, Flo Edwards, Maryka Holtzhausen, Olivia Mason, Peace Proscovia, Vanessa Walker, Fran Desmond, Hannah Joseph, Niamh Cooper, Lauren Massey, Phumza Mawemi, Rebekah Airey, Sophie Masterson
Coach:  Karen Atkinson, Assistant coach:  Olivia Murphy
Tickets for the remaining 2015 matches are available now. For a full list of fixtures and for ticket information please go to https://www.teambath.com/sport/netball/fixtures-results/
You can find out more about Team Bath on our website teambath.com
You can also follow Team Bath on Twitter at twitter.com/teambath or facebook.com/teambath
You can follow Team Bath netball at twitter.com/TeamBathNetball
For further information please contact the Team Bath press office at Matchtight Ltd on 01225 383518 or by email at press@matchtight.co.uk