Posted 21st Jul 2014
New Zealand netballers fine-tune Commonwealth Games preparations at University of Bath
Reigning Commonwealth netball champions New Zealand have been fine-tuning their preparations for the Glasgow 20014 Games at the University of Bath Sports Training Village.
The New Zealand team won gold at both the Melbourne Commonwealth Games in 2006 and again at Delhi in 2010 and will arrive in Glasgow as one of the pre-competition favourites.
They spent their final pre-Games preparation camp training at the University of Bath before transferring to the Athletes' Village for the Games.
"We felt this was the ideal spot to train because of the great facilities at the University," said vice-captain Laura Langman, who was a member of the New Zealand team that trained in Bath ahead of an internati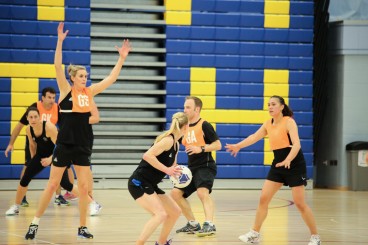 onal against England at the Sports Training Village in 2009.
"We've been here before and so everything is very familiar to us. We feel a little bit spoilt here. It was a very clear choice for us when we heard the Games were going to be in Glasgow.
"We've had a really massive build-up to the Games and this is pretty much the icing on the cake. We're putting the final touches on to what we've already done to put out there when we get to the Commonwealth Games."
Langman, who has more than 100 New Zealand caps, will soon be a midcourt team-mate of Team Bath and England player Serena Guthrie, who just signed up to join Auckland-based Northern Mystics in the ANZ Championship next season.
And she said she's looking forward to teaming up with her. "She's a raw talent and she's going to flourish in the ANZ," she said. "She's going to be a massive asset for Mystics and we're really excited to have her."
Defender Katrina Grant said the Silver Ferns can't wait to get going in Glasgow.
"The mood in the team is really great," she said. "We've had a massive training build-up and we've come to Bath to taper a bit. We've been here before and we know the facilities here are really good.
"We're ready to go now and we just want to get to the Games and get started."
New Zealand get their Commonwealth Games campaign underway against Malawi on Friday 25 July and also face Scotland, Northern Ireland, St Lucia and Jamaica in the group stages.
The England netball squad, including two Team Bath players and  seven former Team Bath players, also held their final preparation camp at the University of Bath.
For further information please contact the Team Bath press office at Matchtight Ltd at press@matchtight.co.uk