Posted 23rd Apr 2014
Coach Thirlby looking for stylish end to ZEO Superleague
Team Bath head coach Jess Thirlby wants her team to end their ZEO Superleague campaign on a high note with a stylish and classy performance to secure third place in Saturday's play-off game.
The team tackle Hertfordshire Mavericks in a battle for third after going down 43-37 to Manchester Thunder in Monday night's semi-final.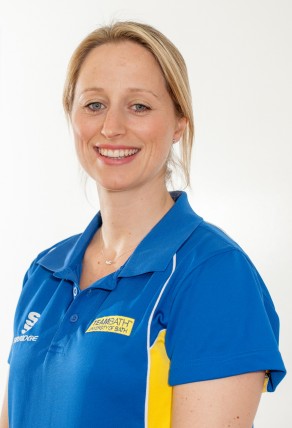 "We have to pick ourselves up and finish the season as strongly as we can," she said.
"It's an opportunity to showcase what Team Bath can do and finish with one of our best performances of the season," she said. "It hurts when you lose, but everyone is up for Saturday.
"Everyone wants to leave their best Team Bath performance on the court and produce a display we can be proud of in the last 60 minutes of the Superleague season.
"Our fans have been tremendous again this season and we want make them proud with a stylish and classy Team Bath performance against what we know will be a rugged Mavericks team," she said.
The five-times Superleague champions had the better of the early exchanges in Monday night's nail-biting semi-final against the 2012 champions at the Thunderdome.
Team Bath led early on, building up a five-goal advantage, but could never break clear to put the game beyond Thunder's reach.
Team Bath led by two going into the final quarter, but the home team produced a clinical display in quarter four to secure their place in the final.
Thirlby said: "We started really well on and we were still leading after 50 minutes, but we didn't finish it off and put them under more pressure when we had the opportunity to. I have to congratulate Thunder on their performance, particularly in the final quarter."
Thunder's prize is a place in Saturday's final against Surrey Storm, who beat Mavericks 52-42 in the other semi.
Team Bath will face Mavericks in the third place game at Worcester at 3.30pm, with the final following at 6pm.
Semi-final details
Quarter scores (Thunder first): Q1: 11-14, Q2: 10-10 (21-24), Q3: 9-8  (30-32) Q4:  13-5 (43-37).
Starting sevens:
Manchester Thunder: GS Krista Enziano GA Helen Housby WA Beth Cobden C Sara Bayman WD Laura Malcolm GD Emma Dovey GK Kerry Almond
Bench: Eleanor Cardwell, Jodie Gibson, Alice Travis, Kathryn Turner, Georgie Webster
Team Bath: GS Rosie Allison GA Pamela Cookey WA Amanda Trounce C Serena Guthrie WD Mia Ritchie GD Billy Pritchard GK Stacey Francis
Bench: Lauren Dent, Jenna Murie, Sophie Masterson, Yasmin Parsons, Sarah Penny
For further information please contact the Team Bath press office at Matchtight Ltd on 01225 383518.