Posted 3rd Apr 2014
Team Bath's netballers back to winning ways to book semi slot
Team Bath's Zeo Superleague side got back to winning ways tonight with a ten-goal 59-49 win over Yorkshire Jets at the University's Sports Training Village.
The win secured a semi-final berth with one match still to play in the league phase of this year's event.  Team Bath did the main damage in the second quarter of tonight's affair, flying into a 27-19 lead from 18-16.
Team Bath had come into today's fixture after a dramatic draw with Mavericks last Friday, letting victory slip their grasp after earlier over-turning a large deficit.  On that same night Jets came within a couple of goals of toppling Manchester Thunder in one of their best performances of the season so far.
"It took us a while tonight to get used to how competitive Jets were", said veteran Bath goal-defence Billy Pritchard.  "They were totally different to when we played them away".
Pritchard, like all the home players, knew that a semi-final place at stake if they won this evening and the home side seemed to start crisply before faltering.
But in a rough and tumble few minutes the home side allowed that lead to slip. From 4-4 the two teams scored in sequence with Team Bath trailing by the single goal each time. For the visitors, a flighted feed into lofty goal-shooter Joanne Walker, played dividends time and time about.
Pritchard said she was "pleased with her second and third quarter tonight" but it was the former Team Bath captain who played with her trademark passion and determination to create three turn-overs in the first quarter, with the last being converted to put Team Bath 13-12.
Two further breathtaking aerial intercepts, this time from England centre Serena Guthrie, helped Team Bath to a two-goal lead before Jets pulled one back at the whistle to give Bath the quarter 14-13.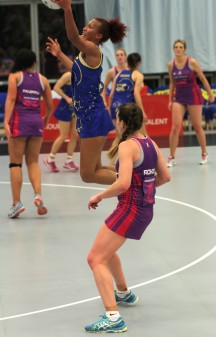 A strange passage of play characterised the opening few minutes of the second quarter which saw Falefitu Kendra come off the bench to play at goal-attack for Jets.
In a slow scoring and physical few minutes, which led to an injury time-out for Pritchard, Team Bath chiselled out an 18-16 lead.
That marked the start of  a patch as purple as the visitors' dresses for the blue and gold of Team Bath who surged to a 27-19 lead.  Guthrie, Amanda Trounce and Mia Ritchie all upped the ante in the centre-court whilst Guthrie and Pamela Cookey linked with speed and accuracy to get the ball into the circle.
Allison was clinical from distance in the circle and Cookey found her athletic verve to snatch the ball frequently under the post and score.  The England captain ended the night with a well-deserved 100% scoring record.
Half-time arrived with the score standing at 30-22 in the home team's favour.
Team Bath now played with Yasmin Parsons at wing-attack and Stacey Francis at goal-keeper after coach Jess Thirlby swapped out Trounce and Sarah Penny respectively.
"It was positive to inject Yaz (Yasmin Parsons) into that third quarter and for her to have an effect as she hasn't been out there for while", said Thirlby.
The big home crowd quietened as Bath went 40-28 ahead in the early part of quarter three, perhaps sensing that victory was almost assured.
By contrast the pace on the court was just as high and Bath did not have it all their own way despite maintaining and extending their lead to take the score at the quarter break to 47-34.
In the final 15 minutes, Team Bath coach Thirlby gave Francis a first try-out at the more mobile goal-defence position and teamed her up with Penny, resting Pritchard. Guthrie and Ritchie swapped places in the centre court.
"At this stage of the season with so little game time left before the semi-finals I need to try different combinations but those changes need to be cohesive and they weren't tonight', said Thirlby of a somewhat lacklustre and error-effected opening 10 minutes of the final quarter.
Jets made some more extensive changes for that quarter bringing Clare Brown on at centre and Claire Wilsher for captain Lauren Potter at goal-defence.  Lucy Richardson was brought on at wing-defence.
Calling a time-out, Thirlby switched back Pritchard into goal-keeper to work with Francis. "I was pleased that we bounced back in the final five minutes and brought the game back to life", said Thirlby.
In a flying final three minutes, Bath held onto their advantage and the pass of the night came when Francis hurled the ball from just inside the centre third to Allison under the post who calmly put the goal to bed.
In a whirl of crowd-pleasing speed and flair the home side closed out the night 59-49.
Team Bath's  final home match will be next Monday (April 7)  against Loughborough.   Fans will be eager to find out after that match details of semi-final dates.
Carter Jonas are Team Bath Netball's property partner, Surridge are the Team Bath kit supplier and Skins provide the team with compression wear.
Team Bath
GS: ,Rosie Allison GA: Pamela Cookey, WA: Amanda Trounce, C: Serena Guthrie, WD: Mia Ritchie, GD:  Ursula (Billy) Pritchard, GK: Sarah Penny
Bench: Stacey Francis, Sophie Masterson, Kate McGinley, Jenna Murie, Yasmin Parsons
Changes:  Q3:   Francis  Bench – GK, Penny GK – Bench, Parsons Bench – WA, Trounce WA – Bench. Q4: Penny Bench – GK, Pritchard GD – Bench, Francis GK – GD, Guthrie C-WD, Ritchie WD – C and after a time-out Pritchard Bench – GK, Penny GK – Bench.
Coach:  Jess Garland, Assistant coaches:  Denis Ellis, Olivia Murphy
Yorkshire Jets
GS Joanne Walker, GA Natalie Haythornthwaite, WA Grierson Brie, C Rohde Lindal, WD Stephanie Wilson GD Lauren Potter (capt), GK Keenan Tuaine
Bench:  Claire Brown, Kendra Falefitu, Millie Ironside, Lucy Richardson, Claire Wilsher.
Changes:
Q2 Haythornthwaite GA – Bench, Falefitu Bench – GA. Q4:  Brown – Bench – C, Potter GD – Bench, Richardson Bench – WD, Lindal C – Bench, Wilsher B – GD, Wilson WD -Bench.
Quarter scores (Team Bath first):
Q1:  14-13  Q2:  16-9 (30-22) Q3:  17-12 (47-34); Q4:  12-15 (59-49)
Shooting Stats
Team Bath: Allison 38 from 46 82.6%  Cookey 21 from 21 – 100%
Jets:   Walker 42 from 46 91.3%, Haythornthwaite 1 from 1 – 100%, Falefitu 6 from 10 – 60%
Tickets for the remaining  2014 match are available now. For a full list of fixtures and for ticket information please go to https://www.teambath.com/sport/netball/fixtures-results/
You can find out more about Team Bath on our website teambath.com
You can also follow Team Bath on Twitter at twitter.com/teambath or facebook.com/teambath
You can follow Team Bath netball at twitter.com/TeamBathNetball
For further information please contact the Team Bath press office at Matchtight Ltd on 01225 383518 by email at press@matchtight.co.uk