Posted 17th Aug 2013
England's young netballers hone skills for World Youth Champs
England's talented young netballers finalised their preparations for next week's Glasgow 2013 World Youth Netball Championships at the University of Bath.
The England under-21s have been having regular training camps at the University, home to five-time Superleague champions Team Bath.
And on Sunday they fly to Glasgow ahead of their first game in the championships, when they tackle the Republic of Ireland on Friday 23 August.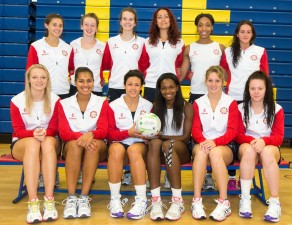 "We've had a brilliant preparation here," said head coach Collette Thomson. "Everything is on tap here. The court is excellent, it's close to the gym and the players have been able to use the hydro pool for recovery after the sessions, so it's been great.
"Most of the players set pbs in their fitness tests last week, so we'll go to the worlds knowing they're in the best physical shape they can be," she added. "Our target is to medal – we're determined to do that and I think we've got the players and the game to do it. "
Two University of Bath students and Team Bath players feature in the England squad for the championships – shooter Rosie Allison and midcourter Yasmin Parsons, who have both represented England at senior level.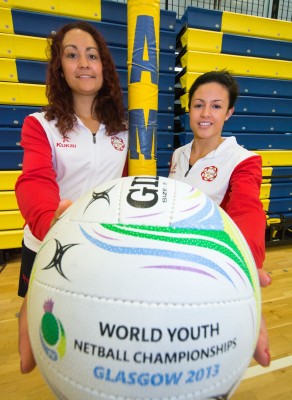 Allison, the only survivor from the team that finished fourth at the last World Youth Championships four year ago, features after recovering from a back injury that restricted her to just a handful of Superleague appearances for Team Bath last season.
"I'm ready to go," said the Biology student, who receives Trendell and Chris Allen scholarships. "We've spent a lot of time together as a team and we've been solidifying things here the last couple of weeks."
Parsons, a Sports Performance student and Trendell Sports Scholar, said: "I'm really excited. Training has been intense and it's really come together well."
Team Bath head coach Jess Thirlby is England under-21 assistant coach and said she was pleased to see the team training on her home courts. "We're proud to have been able to host the team's camp ahead of such an important competition," she said. "It's great to see Rosie and Yas in the team for Glasgow."
England face preliminary round games against the Republic of Ireland (7.30pm Friday 23 August), Singapore (5.15pm Saturday 24 August), Papua New Guinea (1.15pm Sunday 25 August) and Barbados (1.15pm Tuesday 27 August).
You can find out more about Team Bath on our website teambath.com
You can also follow Team Bath on Twitter at twitter.com/teambath or facebook.com/teambath
For further information please contact the Team Bath press office at Matchtight Ltd on 01225 383518.