Posted 23rd May 2013
Team Bath target fifth Superleague title in Saturday's final
Team Bath's netballers go in search of their fifth Superleague title when they tackle Celtic Dragons in Saturday's (25 May) climax to the domestic netball season.
The two teams go head to head in the grand final at the University of Worcester Arena on Saturday night with the biggest prize in domestic netball at stake.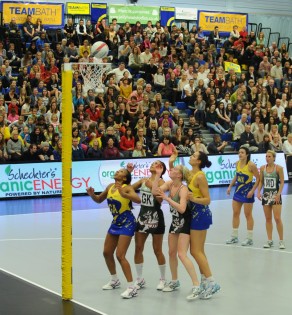 Team Bath have already won four of the seven Superleague campaigns contested to date, with victories in 2006, 2007, 2009 and 2010 – a feat that earned them a place in this year's Guinness World Records book. They go into the final having won 11 of their 13 Superleague games this season.
The two teams met at the University of Bath in February the opening game of the season, when Team Bath edged it 57-50. Team Bath won the rematch in the Showdown phase of the Superleague 60-48 in April, but Dragons then handed Team Bath their only home defeat of the season a week later, running out 66-58 winners.
Jess Thirlby, Team Bath's head coach, said:  "People will think we're two very evenly matched teams, but we're very different style-wise. It's well within our capabilities to beat Celtic Dragons, but we're not taking anything for granted.
"Our match preparations are focussing on our own performance first and foremost and we won't allow ourselves to be too distracted by the opposition," she added. "If we play our own game consistently well it should be good enough.
"Their style of play means they're a very high percentage team off their own possession so we'll have to attack the game both when we are with and without the ball," she added. "That way we hope to come out with enough turnover ball and then we need to be more clinical in attack.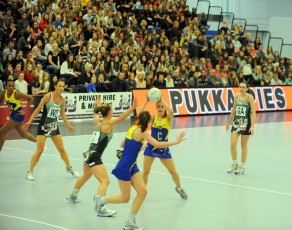 "The main reason we lost to Dragons at home was our own unforced error rate. We hadn't made so many errors in games before that one or after it." she added. "We handled the pressure well against Manchester Thunder in the semi-final and we can be confident going into the final. We have the best fans in the country and I'm sure they'll be there in force to cheer us on."
Team Bath and England midcourter Mia Ritchie said the team have worked hard to achieve success this season after two fruitless Superleague campaigns.
"We've worked hard as a squad to get here. The players, staff and fans have all contributed to our success this season and I hope we can repay them by lifting the trophy on Saturday," she said. "A lot of people predicted this final, now it's down to us to show them why we're the best team in the league."
The game gets underway at 7pm. If you're not lucky enough to have a ticket, you can watch the game live on Sky Sports 4 – coverage starts at 6.30pm. You can also listen in on BBC Radio 5 Live Sports Extra.
You can find out more about Team Bath on our website teambath.com You can also follow Team Bath on Twitter at twitter.com/teambath or facebook.com/teambath
For further information please contact the Team Bath press office at Matchtight Ltd on 01225 383518 or 07765 071683.