Posted 26th Mar 2013
Team Bath to host Storm, Mavericks and Dragons in Phase Two of Superleague
Team Bath's netballers will continue their quest for a fifth Superleague title with what promise to be three thrilling home fixtures against Surrey Storm, Hertfordshire Mavericks and Celtic Dragons next month.
The action gets underway in Phase Two of the Superleague, the Showdown League, with a televised game against Surrey Storm at the Sports Training Village on Monday 15 April.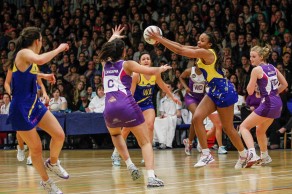 Three days later, on Thursday 18 April, Team Bath host Hertfordshire Mavericks. And on Monday 29 April Team Bath will entertain Celtic Dragons at the Sports Training Village in another televised game.
Tickets for Team Bath's Phase Two home games are available to buy online now at http://teambath.ticketline.co.uk/ or by phoning 0844 8884412. They include a special offer if you buy tickets for any two of our three home fixtures – this offer is only available on phone purchases. See below for further details.
Team Bath's 54-34 away win over Hertfordshire Mavericks on Friday meant Team Bath ended Phase One of the Superleague at the top of the table.
The Superleague is now taking a break to allow for the senior England team to tour Jamaica and the under-21s to pla
y in Australia. The two tours feature no fewer than eight members of Team Bath's Superleague squad.
But the Superleague will be back with a bang when Team Bath host Surrey Storm mid-April.
Jess Thirlby, Team Bath's head coach, said she is relishing the return to Superleague action.
"Psychologically I think it's important that we've finished top of Phase One," she said. "It means we have overcome all but one of our opposition that we'll face in Phase Two and we'll face them, Surrey, in our first game at home, so we're really looking forward to that.
"Our home crowd made a real difference to our performances and we really hope people will come out in force in Phase Two.
"We had a few players with injuries in Phase One, but most of them are now back to fitness and with eight players featuring on national tours before Phase Two, we should be match fit and raring to go!"
And she said she was pleased with Friday's victory at Mavericks.
"I was really pleased with the result on Friday, particularly our first half performance, which was one of the best, more cohesive passages of play we have out together so far this season.
"We pulled away to 14 very quickly and that was really pleasing. In both our attack and defence we could start to see the transition of the work from training into the game with a higher number of live turnovers and some more clinical attacking play."
Team Bath's Superleague Phase Two fixtures
Monday 15 April: Team Bath v Surrey Storm
Thursday 18 April: Team Bath v Hertfordshire Mavericks
Monday 22 April: Celtic Dragons v Team Bath
Monday 29 April: Team Bath v Celtic Dragons
Monday 13 May: Surrey Storm v Team Bath
TBC: Hertfordshire Mavericks v Team Bath
Team Bath's home fixtures are played at the University of Bath Sports Training Village – doors open at 7pm, games start at 8pm.
Team Bath home fixtures ticket details
Tickets are available online from the Ticketline at http://teambath.ticketline.co.uk/ or by phoning 0844 8884412.
Tickets cost £8 for adults and £6 for concessions.
Special offer: buy tickets for any two of our three Phase Two home games – adults £12, concessions £9.
Please note, this offer is only available for tickets booked by phone.
You can find out more about Team Bath on our website teambath.com
You can also follow Team Bath on Twitter at twitter.com/teambath or facebook.com/teambath
For further information please contact the Team Bath press office at Matchtight Ltd on 01225 383518 or 07765 071683.