Posted 1st Mar 2013
Team Bath impress in beating Loughborough 69-30
It was a case of normal service resumed for Team Bath as they ran out 69-30 winners over Loughborough Lightning in the Netball Superleague at the University of Bath tonight (Friday).
Playing in front of a sell-out crowd of almost 1400 fans, Team Bath quickly erased memories of last week's defeat.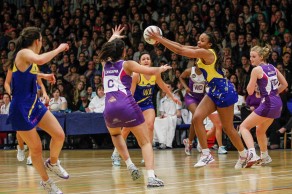 The two teams looked evenly matched early on as they probed each other for weaknesses. Team Bath took the first quarter 13-8.
Team Bath stepped up the pace in the second quarter, producing a display of fast accurate passing that left Lightning chasing shadows.
Mia Ritchie and Yasmin Parsons were both impressive in midcourt, creating acres of space and finding Pamela Cookey and Asha Francis at will. They took the score to 27-15 at the halfway mark.
The four-times Superleague champions produced a devastating third quarter, which they took 20-5. Wing attack Amanda Trounce and centre Serena Guthrie both showed their athleticism, producing a string of impressive passes for Cookey, who looked unstoppable in the shooting circle.
She made shooting look easy, producing a display of finely flighted efforts from around the circle. It was a near flawless shooting masterclass from the England captain.
Loughborough made five changes in the final quarter, but they couldn't stem the relentless flow.
Quarter four saw the introduction of 18-year-old Sophie Masterson at goal keeper for Team Bath for her first taste of Superleague action, playing the alongside sure footed and reliable England international Stacey Francis.
It was the perfect time to introduce a young player, who slotted straight into the team, although Loughborough goal shooter Beth Payne, also introduced for the last quarter, impressed as well.
But Team Bath refused to ease up late on, cutting the supply to Payne to close out the game in impressive style at 69-30.
Pamela Cookey said: "The girls really stepped up tonight. We were a bit disappointed after last week's defeat, but we righted the wrongs tonight. It was a great performance."
Jess Thirlby, Team Bath's head coach, added: "We didn't just want to win tonight, we needed the performance as well. It was great to win all four quarters, but it's still very much a work in progress.
"We've got some players missing, so I'm fortunate to have some options to switch players around."
Sophie Masterson said she enjoyed her first quarter of Superleague action. "It was crazy, I can't remember the first 10 minutes," she said. "The crowd were great tonight. It's a development year for me, I'm learning loads just training with the likes of Stacey (Francis) and Sam (Cook)."
Team Bath's next home fixture is against Team Northumbria on Friday 8 March. For ticket details please go to https://www.teambath.com/sport/netball/superleague/
Quarter scores (Team Bath first): Q1: 13-8, Q2: 14-7 (27-15), Q3: 22-5 (49-20), Q4: 20-10 (69-30).
Starting sevens:
Team Bath: GS: Asha Francis, GA Pamela Cookey, WA Mia Ritchie, C Yasmin Parsons, WD Serena Guthrie, GD  Stacey Francis, GK Gemma Stewart. Q2 changes: Parsons to WA, Ritchie to C. Q3 changes: Amanda Trounce to WA, Guthrie to C, Ritchie to WD. Q4 changes: Cookey to GS, Francis to GA. Sophie Masterson to GK.
Bench: Rosie Allison, Samantha Cook, Kelly Morgan.
Loughborough Lightning: GS: Nikita Piggott, GA Flo Edwards, WA Hannah Joseph, C Sophie Candappa, WD Jodie Gibson, GD Lauren Massey, GK Jade Forbes-Wattley.
Q2 changes: Vanessa Walker to GS, Piggott to GA.  Q3 changes: Lauren Steadman to WD, Gibson to GD. Q4 changes: Rachel Mulloy to GD. Q4 changes: Beth Payne to GS, Walker to GA, Candappa to WA, Fran Desmond to C, Mulloy to GD. Q4 timeout: Massey to WD.
Shooting stats:
Team Bath
Pamela Cookey – 49 from 54 (91 per cent)
Asha Francis – 20 from 29 (69 per cent)
Loughborough Lightning
Nikita Piggott – 10 from 12 (88 per cent)
Flo Edwards – 1 from 4 (25 per cent)
Vanessa Walker – 10 from 17 (59 per cent)
Beth Payne – 9 from 9 (100 per cent)
You can find out more about Team Bath on our website teambath.com
You can also follow Team Bath on Twitter at twitter.com/teambath or facebook.com/teambath
For further information please contact the Team Bath press office at Matchtight Ltd on 01225 383518.