Posted 27th Feb 2013
Coach looks for immediate response in Superleague
Head coach Jess Thirlby is looking for an instant response from her team in Friday's Netball Superleague fixture against Loughborough Lightning after her side suffered their first defeat of the season at Surrey Storm at the weekend.
Team Bath host Loughborough at the University of Bath Sports Training Village on Friday (1 March) night.
Tickets have now sold out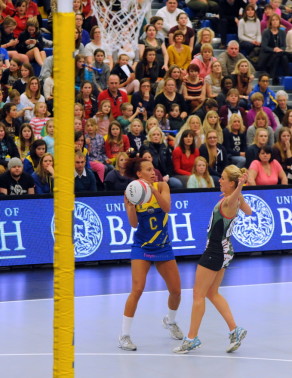 for the fixture against and there will be no tickets available to purchase on the door.
There are still tickets available for the home game against Team Northumbria on Friday 8 March. For ticket details go to our Netball Superleague web page.
The game comes just days after eight Team Bath Superleague players were selected for forthcoming England tours – five for the senior tour to Jamaica and three for the under-21 tour to Australia.
Team Bath went down 61-46 at Surrey Storm on Saturday night, their first defeat of the 2013 Superleague campaign.  Team Bath were without Rosie Allison, Samantha Cook and Kadeen Corbin for a fixture that saw the teams neck and neck until the final quarter.
"The team we had was good enough to beat Surrey, but they didn't play well enough to," said Thirlby.  "We under performed in the last quarter and hopefully we've learned our lesson in terms of consistency.
"We're getting a lot of turnovers against teams, but we need to make sure we're a bit more clinical and capitalise on each one of those turnovers.
"We also need to take care of our own centre pass possession. If we score from our own centre passes, everything else is a bonus.
"There have been some magical moments in our games, some really some really fantastic stuff," she added. "Often our most memorable moments of matches have been greeted with cheers by the spectators, but ultimately those moments haven't been frequent or consistent enough to win each quarter. "
Thirlby says Lightning will certainly be no push over on Friday night, sighting the fact that they lost by a smaller margin to Surrey than Team Bath did this season. Loughborough have been boosted by an influx of Caribbean players for the new campaign.
"It's a game we have to win," said coach Thirlby. "We need to make sure we stay in the top-three in Phase One of the Superleague, I don't want to be involved in a fourth/fifth battle."
The Loughborough game comes just days after Team Bath players took up five of the 12 places in the England squad to tackle Jamaica in the Caribbean in April. Pamela Cookey wlll be captain and the squad also features Kadeen Corbin, Stacey Francis, Serena Guthrie and Mia Ritchie.
A further three current Team Bath Superleague players have been selected for the England under-21 squad to tour Australia next month. They are Rosie Allison, Samantha Cook and Yasmin Parsons.
Team Bath's next home fixture is against Team Northumbria on Friday 8 March. For ticket details please go to https://www.teambath.com/sport/netball/superleague/
You can find out more about Team Bath on our website teambath.com
You can also follow Team Bath on Twitter at twitter.com/teambath or facebook.com/teambath
For further information please contact the Team Bath press office at Matchtight Ltd on 01225 383518.