Posted 7th Feb 2013
Team Bath make a winning start to 2013 Superleague campaign
Team Bath's netballers made a winning start to their 2013 Superleague campaign with a 57-50 victory over Celtic Dragons at the University of Bath tonight (Thursday).
The four-times Superleague champions made a strong start, taking the opening quarter 16-8. But they had to rely on an equally impressive final quarter to eventually put away Dragons and secure the spoils.
Jess Thirlby, Team Bath's head coach, said: "I was particularly pleased with the spirit we showed in the last 15 minutes. We always knew Celtic wouldn't be an easy team to come up a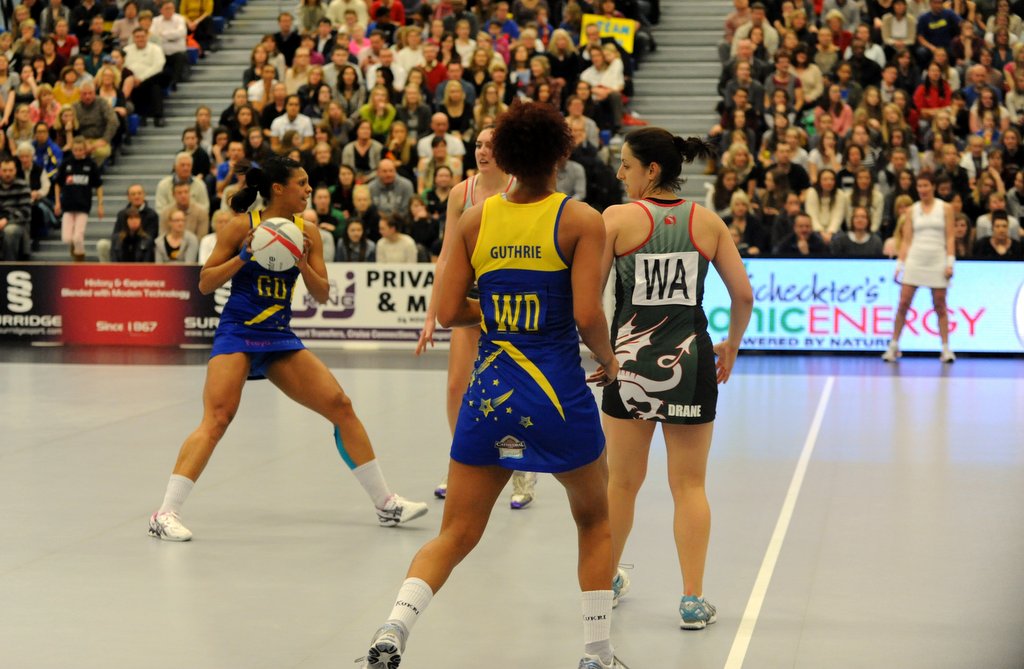 gainst, and they proved that today."
Pamela Cookey, fresh from captaining England to that historic 3-0 series win over world champions Australia, said: "We made hard work of it, but the girls showed great courage and spirit to come away with the win."
Team Bath started the game fielding all four of the England players that featured against Australia in the test series, with Cookey joined by Kadeen Corbin, Stacey Francis and Serena Guthrie.
But it was the visitors who made the better start and it wasn't until Corbin's goal six minutes into the game that Team Bath went ahead for the first time at 6-5.
Celtic Dragons dug in and the scores were tied at eight goals apiece, but gradually goal keeper Stacey Francis began to got the better of Dragons' giant shooter Lottysha Cato, and at the other end, som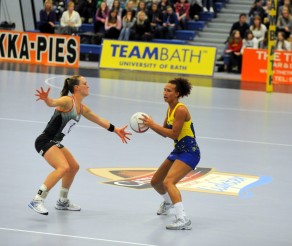 e impressive sharp shooting from Cookey and Corbin saw Team Bath end quarter one with eight goals without reply, taking the score to 16-8.
But any home fans expecting their side to run away with things from there were to be disappointed, as the visitors gradually whittled away the score and shaded quarter two 16-15, reducing the deficit to 31-24.
Coach Thirlby shuffled her pack for quarter three, shifting Corbin from one end of the court to the other – she moved from goal shooter to goal keeper to keep an eye on Cato, with Stacey Francis moving out to goal defence and with captain Asha Francis moving to goal attack, and young Yasmin Parsons on at wing attack.
But Dragons continued to cut Team Bath's lead and with six minutes left in the quarter, with the score at 38-37, Thirlby took advantage of an injury time out to ring the chan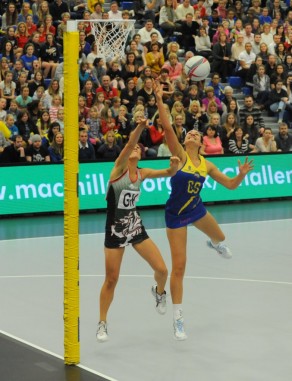 ges again, switching around Corbin and Stacey Francis, as well as Guthrie and Ritchie.
Cato was the next on the score sheet to level up at 38-all, but Cookey and Asha Francis responded at the other end as Stacey Francis once again tightened the shackles on Cato, intercepting a succession of lofted balls to the shooter. Team Bath ended quarter three the stronger, scoring four times without reply to take the score to 42-38.
Rosie Allison came on for Asha Francis at the break and quarter four saw goals going with centre pass as Team Bath kept the scoreboard ticking over as time eked away.
The impressively athletic Guthrie, revelling in her new role as vice captain, helped Team Bath step up the pace with some crucial interceptions while an effervescent Mia Ritchie and Parsons provided a steady supply of passes to the shooters. Pamela Cookey hobbled off with a knock in the final minutes of the game, to see Asha Francis return to the fray as Team Bath gradually turned the screw and made sure of victory, taking the game 57-50.
See our Facebook gallery of photos for more of the action.
Team Bath return to action with a trip to reigning champions Manchester Thunder on 16 February. The next home fixture is against Loughborough Lightning on 1 March.
Quarter scores (Team Bath first): Q1: 16-8 Q2: 15-16 (31-24), Q3: 11-14 (42-38), Q4: 15-12 (57-50)
Starting sevens
Team Bath: GS Kadeen Corbin, GA Pamela Cookey, WA Asha Francis, C Mia Ritchie, WD Serena Guthrie, GD Gemma Stewart, GK Stacey Francis
Bench: Amanda Trounce, Sophie Masterson, Kelly Morgan, Rosie Allison, Yasmin Parsons.
Q3 changes: Asha Francis to GS, Yasmin Parsons to WA, Stacey Francis to GD, Corbin to GK. Injury time-out: Guthrie to C, Ritchie to WD, Corbin to GD, Stacey Francis to GK. Q4 changes: Alison to GS. Injury time out change: Asha Francis to GA.
Celtic Dragons: GS Lottysha Cato, GA Cara Moseley, WA Suzy Drane (capt), C Kyra Jones, WD Jenna Murie, GD Stephanie Williams, GK Sara Hale
Bench: Lorraine Betsy, Cathy Bastian, Nichola James, Emma Thomas, Chelsea Lewis
Q2 change: Emma Thomas to GA. Q3 change: James to WD
Q4 injury time out change: Murie to GK
Shooting stats
Team Bath:  Rosie Allison – 10 from 19 (53 per cent), Pamela Cookey 21 from 25 (84 per cent), Kadeen Corbin – 18 from 21 (86 per cent), Asha Francis – 8 from 11 (73 per cent)
Celtic Dragons: Lottysha Cato – 42 from 48 (87 per cent), Cara Moseley – 1 fro 5 (20 per cent), Emma Thomas 7 from 8 (87 per cent)
For further fixture details and ticket information please see the Team Bath website at www.teambath.com/sport/netball/superleague/
You can also buy tickets for Team Bath home games via Ticketline at http://teambath.ticketline.co.uk , which includes details or by phone on or by phone on 0844 8884412
You can find out more about Team Bath on our website teambath.com
You can also follow Team Bath on Twitter at twitter.com/teambath or facebook.com/teambath
For further information please contact the Team Bath press office at Matchtight Ltd on 01225 383518.