Posted 5th Feb 2013
Asha to captain Team Bath for 2013 Superleague campaign
Asha Francis will captain Team Bath for the new Netball Superleague season, with Serena Guthrie as her vice-captain.
Team Bath begin their 2013 campaign at home to Celtic Dragons on Thursday (7 February) in a game being televised live on Sky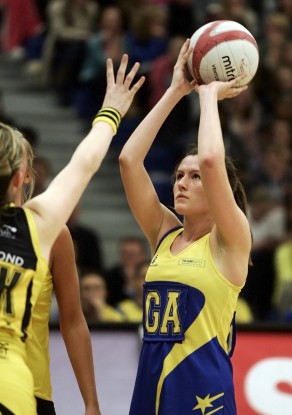 Sports.
Asha (right), a Singapore international, retains the captaincy from the 2012 Superleague season.
She lifted the FastNet Grand Prix trophy, which Team Bath won for the first time last month, and said: "It's been a long build-up to the season and we're really excited about getting going."
2013 marks Serena's first season as vice-captain and her appointment comes after she played a starring role in midcourt in helping England secure a historic 3-0 series win over world champions Australia.
Serena said: "Everyone knows I'm not the most serious member of the team, but it's a real privilege and honour to be given the opportunity to be vice-captain this season.
"We've got some really strong leaders in the team and we're really looking forward to the first game. "
Jess Thirlby, Team Bath's head coach, added: "Asha and Serena will make a great partnership, but we're lucky enough to have a team of leaders on court.
"We've been training hard and we're raring to go on Thursday night," she added.
For further fixture details and ticket information please see the Team Bath website at www.teambath.com/sport/netball/superleague/
You can also buy tickets via Ticketline at http://teambath.ticketline.co.uk , which includes details or by phone on or by phone on 0844 8884412
You can find out more about Team Bath on our website teambath.com
You can also follow Team Bath on Twitter at twitter.com/teambath or facebook.com/teambath
For further information please contact the Team Bath press office at Matchtight Ltd on 01225 383518.