Posted 8th Jan 2013
Team Bath netballers start 2013 with silverware
Team Bath's netballers made a terrific start to 2013 by capturing their first silverware of the season, winning the Cathedral City Lighter FastNet Grand Prix for the first time.
Team Bath won all five of their games in the weekend's grand prix, rounding their campaign off with a 26-21 victory over reigning Superleague and FastNest champions Manchester Thunder in the grand final.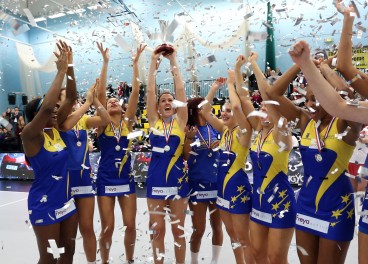 Head coach Jess Thirlby said the team's performances and results auger well for the new Superleague season, which is now less than a month away.
"It was great to start the year by bringing some silverware back to Bath," she said.
"It gives us some real momentum for the next few weeks and we feel increasingly confident that our combinations are starting to forge some strong links.
"It has also given us some clarity for some of the preparations we need to make in the final few weeks to put us in the best possible position for when we play Celtic Dragons in the Superleague."
The roll-on/roll-off format of FastNet gave the coaching team the opportunity to try out different combinations and to mix some of the younger squad members with the more experienced players.
The grand prix in Manchester saw Sophie Masterson make her senior debut for Team Bath at Superleague level – with all eight teams that will contest the 2013 Superleague in action.
Team Bath topped the table at the group stage with three wins from three fixtures and followed that up with a semi-final victory over Surrey Storm and then that win in the final of the FastNet format event, which is an even faster variant of the sport.
Team Bath get their 2013 Superleague campaign underway with a home fixture at the University of Bath against Celtic Dragons on Thursday 7 February. The game is being televised live on Sky Sports.
They also host Loughborough Lightning on Friday 1 March and Team Northumbria on Friday 8 March in phase one of the Superleague.
For further information and ticket details please see the Team Bath website at https://www.teambath.com/sport/netball/superleague/
You can also call 0844 8884412 to buy Team Bath home Superleague tickets.
Highlights of the 2013 FastNet grand prix are due to be screened by Sky Sports on Thursday (10 January). See TV schedules for further details.
Team Bath's FastNet squad was: Asha Francis, Pamela Cookey, Rosie Allison, Kadeen Corbin, Yasmin Parsons, Mia Ritchie, Serena Guthrie, Amanda Trounce, Sophie Masterson, Stacey Francis, Gemma Stewart and Sam Cook.
Team Bath results at Cathedral City Lighter FastNet Grand Prix
Group matches: Team Bath 27 Surrey Storm 16
Team Bath 32 Loughborough Lightning 14
Team Bath 29 Yorkshire Jets 17
Semi-final: Team Bath 29 Surrey Storm 16
Grand final: Team Bath 26 Northern Thunder 21
You can find out more about Team Bath on our website teambath.com
You can also follow Team Bath on Twitter at twitter.com/teambath or facebook.com/teambath