Posted 9th Dec 2012
Meet Mala Star – our new netball mascot
Team Bath's netballers have a new mascot for their 2013 Superleague campaign – thanks to two young fans.
A star shaped figure called Banyo Mala and coloured in Team Bath's traditional blue and yellow will be out and about at next season's home Superleague fixtures.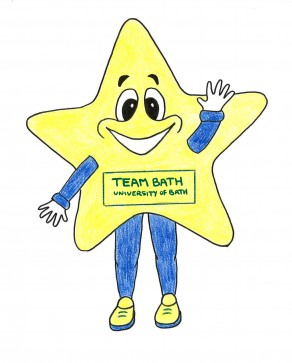 The mascot was designed by 14-year-old Alyssa Oates from Ivybridge Community College in Ivybridge, Devon.
The full name, Banyo Mala, means Team Bath in Greek. This has been shortened to Mala Star to tie in with the stars on the netball dresses. The name comes from 11-year-old Jess Phelps from Hanham Abbots Junior School in South Gloucestershire.
Alyssa and Jess were the pick of the entries for a design the mascot competition run by Team Bath and the winners were chosen by members of the 2013 Superleague squad. A life-sized version of Banyo Mala will now be created.
They will each receive a family season ticket for Team Bath's home Superleague games and tickets for their classes to watch Team Bath's opening Superleague fixture against Celtic Dragons on Thursday 7 February.
For further fixture details and ticket information please see the Team Bath website at Superleague page.
You can also buy tickets via Ticketline which includes details of our Phase 1 ticket bundle offer, or by phone on or by phone on 0844 8884412
You can find out more about Team Bath on our website teambath.com You can also follow Team Bath on Twitter at twitter.com/teambath or facebook.com/team
For further information please contact the Team Bath press office at Matchtight Ltd on 01225 383518.