Posted 7th Dec 2012
Students Union Weekly Sports Update 6
Hi everyone
I'm going to start off with a survey, but a really important one.
Each year we run the Student Opinion Survey, it provides us here in the Union with an array of information that we can then use to gauge what the most important issues to students are, and what we should be working on in the coming year. The more people who fill it out the better:
Last night also saw the first of the two Snowball nights this year. It proved a huge success with everyone having a good time. New for this year were a silent disco room and a Santa's grotto photo booth.
The club of the semester was also announced and went to the Rowing Club, with Team of the semester being announced at tonight's Snowball so watch out for that if you're going.
More recently however, team of the week this week goes to the Women's Fencing Team who crossed swords against Southampton and won 135-45.
Other stand out results saw the Rugby Men's First Team demolish Glamorgan 86-0 and the Football Men's Fourth Team coming back from 2-0 down with 10 men against Southampton to win 3-2.
Despite a solid set of results we've slipped to fourth in the overall standings, however we are still well within reach of the top spots and another strong set of results next week could change everything. So let's push for that before we go away for Christmas.
Last weekend saw Ryan Dawe of the surf club compete at the first student surf tour competition reaching the quarter finals in the process. If more of our surfers do well, this will give Bath a pretty good ranking this year.
Floorball also played their first university tournament of the year, with great success too. Beating Imperial 5-4 and Warwick 6-3. There will be more tournaments (and hopefully more victories) in the new year!
Other things you should be aware of are that tomorrow there will be an SU Officer drop in session in the 1 East Meeting Room at 12:15. So come along if you want to run to be the Sport Officer next year, or even if you just fancy a chat.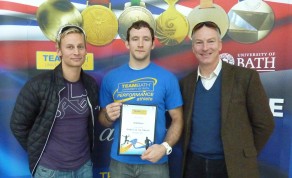 You can also submit athlete of the month nominations to me for outstanding individual contributions to a particular team, the winner will win a pair of Oakley sunglasses each month, in partnership with the Sports Department.
Finally, Bath also has opened up its ice rink in Victoria Park near the Royal Crescent. So if you fancy a bit of social sporting fun with flatmates or course mates then head along. Perfect if you like ice skating, or even if you hope to catch a glimpse of me falling flat on my face, which will be often (because I'm really not very good).
Anyway that's all for now, have fun at the Snowball tonight for those who are going,
Jon