Posted 16th Oct 2012
Athletes of the month collect their awards
Olympic and Paralympic medallists who train at the University of Bath are the latest winners of the Team Bath athlete of the month awards.
Modern pentathlete Samantha Murray and swimmer Michael Jamieson won the August awards to mark their achievements in winning silver medals at the London 2012 Olympics.
Paralympic athletes Paul Blake – who won a silver and a bronze at the Games – and Katrina Hart, a relay bronze medallist, won the September awards.
Each of the athletes receives a piece of Oakley eyewear from Ellis & Killpartrick Opticians of New Bond Street, Bath, and a framed certificate to mark their achievement.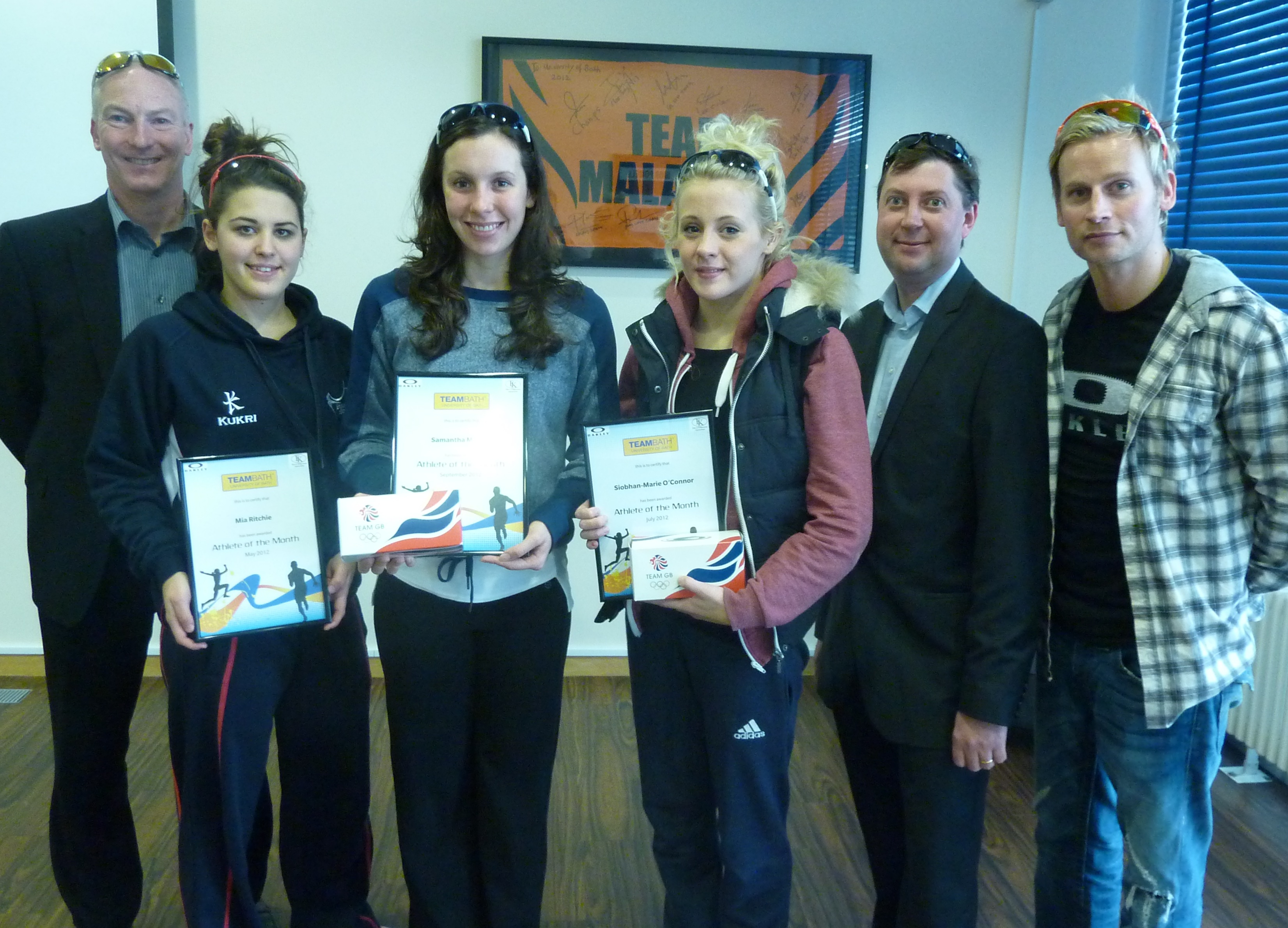 Samantha Murray collected her award at the recent awards ceremony and was joined by another Bath-based Olympian, Siobahn-Marie O'Connor, who who the July award.
She received the plaudit for her performances at the ASA Nationals, when she qualified a place on the GB Olympic swimming team for London 2012 as the youngest member of the team.
And netballer Mia Ritchie collected the May award after winning her first senior England cap.
Oakley UK Brand Ambassador Tyron Dawkins said: "Once again there were some amazing performances from some outstanding athletes across a range of sports.
To celebrate these outstanding achievements our local athletes of the month, award sponsors, Ellis and Killpartrick Opticians are offering a 15 per cent discount on all Oakley products for Team Bath athletes, staff, Sports Training Village users and Chronicle readers until the 24th December 2012. Please mention offer when purchasing.
You can find out more about Team Bath on our website teambath.com
You can also follow Team Bath on Twitter at twitter.com/teambath or facebook.com/teambath
For further information please contact the Team Bath press office at Matchtight Ltd on 01225 383518.
Pictured are (left to right): Stephen Baddeley (Director of Sport, Universty of Bath), netballer Mia Ritchie, modern pentathlete Samantha Murray, swimmer Siobahn-Marie O'Connor, Chris Barrington (Partner at Ellis and Killpartrick Opticians) and Tyron Dawkins (Brand Ambassador, Oakley)