Posted 9th Oct 2012
Students' Union Weekly Sports Update 1
Welcome to your weekly Sports update.
This is the first of hopefully many weekly emails aimed at keeping you up to date on the goings on within Students' Union Sport.

To those of you returning to Bath, welcome back!
I'd also like to take this opportunity to thank you for all of your support during the Officer elections last year and I look forward to doing the best possible job I can to repay you for that support.
To first years, simply welcome to the University of Bath and the Students' Union. I hope you're all as excited as I was at the prospect of starting your university journey.
I am your Students' Union Sport Officer, you may have already seen me running around in an orange toga during your Freshers' Week in a strictly non-official capacity, but my main job is to actually make sure that you are getting the most out of you time here at Bath with regards to your sporting experience.
It's been a summer of change within the Union. The returners amongst you may have noticed our rebranding, as well as the fact that the activities office has now relocated to downstairs in level two of the Students' Centre. You now have no excuse for not being able to find us.
I am also your Officer in charge of Bars and Entertainment this year, so anything bars related, whether it be the price of a pint of coke or why my jokes at comedy night are distinctly unfunny, then do come and ask me.
Over the summer, I was also elected to the BUCS Executive Board as BUCS' Student Director, this means that if you want to influence competitive university sport at the highest level than you have a unique opportunity that no one else in the country has. So please make sure that you are using and abusing my position throughout the year to do so.
BUCS also welcomed American Football into their sporting family over the summer so we wish them well for their inaugural BUCS season this coming year! More locally however, we also welcome Cheerleading over from Societies to SU Sport and Taekwondo, which is an entirely new club for 2012.
This has also been an excellent summer for British sport generally. We are lucky in that we can boast some of the greatest sporting talent in the country.
This was demonstrated by our contribution to London 2012; with silver medallist Michael Jamieson featuring in the 200m breaststroke final alongside Andrew Willis, as well as Samantha Murray picking up a silver medal in the modern pentathlon and Liz Johnson; 100m breaststroke SB6 Paralympic bronze medalist to name just a few.
You can meet and greet them on Wednesday 10 October in the Founders Hall at 1pm, make sure you're there!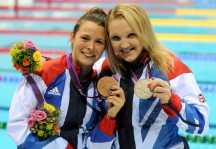 Wednesday will also see the first round of BUCS fixtures kicking off on campus, so if you are set to feature in these then good luck, and if not, then do make sure that you get down to support as many games as you can because I know that extra support really can make a difference to those who are playing.
If competitive sport however isn't your thing, then we've been working really hard this summer to enhance our offer on recreational sport. This year will be the first year we're running an inter-halls netball league so if you fancy a bit of social netball with a few halls points on offer, than make sure you get involved with that.
As well as this, we've also got inter-halls and inter-departmental football leagues running throughout the year. Alongside this, we're lucky enough to have Sport England money for a second year fuelling an Active Universities programme called the 3:Thirty Club. For something a touch more casual you can get involved with a variety of events across the term.
This summer also saw the first summer specific events take place on campus (despite the weathers best attempts to stifle them), with have-a-go archery sessions proving a huge success with post-graduates and international students alike.
If you're around over the holidays and there's something you want putting on then please do get in touch with me and I'll see what I can do.
Sports Exec elections are also live NOW. So if you want to run for the currently unfulfilled Sports Reporter or Treasurer positions then do so here by clicking Elections. Voting will open Thursday 9am and close at midnight Sunday so make sure you have your say!
I could go on for page after page about everything we've been working on this summer and our plans for the year but there is literally something for everyone this year so make sure you're getting involved and contributing to another fantastic year of sport with any one of our 48 sports clubs!
Anyway, if you want any more basic info then head to bathstudent.com/sport, but for now, as a reward for reaching the end of this email here's a video for you to enjoy. It highlights our successes last year.

Events this week
Ongoing:
Article 4 Direction petition. This is a petition aimed at preventing the council from bringing in proposed housing restrictions to houses of multiple occupancy, please sign! Article 4 Direction
Wednesday:
– Meet and Greet our Olympic Heroes in the Founders Hall 13:00 see our Facebook event page
– Nomination for Sports Exec Bi-elections close Thursday
Sunday:
– Voting for Sports Exec positions
Anyway, enough from me, have a fantastically sporty year.
Jon