Posted 4th May 2012
Alex is University of Bath Sports Personality of the Year
Badminton player Alex Huttunen has been named 2012 University of Bath Sports Personality of the Year Award at a ceremony at Bath's Assembly Rooms.
Alex, who is in his fourth year of a Mathematics degree at the University of Bath, received the award following a vote of members of the Students' Union Sport Association.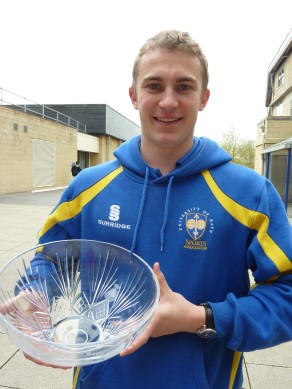 He featured on a shortlist of five athletes featuring swimmers Jess Dickson, Michael Jamieson and Andrew Willis, as well as hurdler Jack Green.
Alex has captained the University of Bath Badminton Club for three years, as well a serving as its treasurer and now its chairman. He has also served on the Sports Association Sports Executive for two years.
Alex wasn't the only winner on the night from the sport of badminton. Pete Bush, head badminton coach at the University of Bath, collected the prestigious Martyn Hedges Award – the highest accolade awarded by the University of Bath Blues Committee.
The University of Bath Netball firsts also collected one of the top awards of the evening. They received the BUCS Team of the Year Award in a season that saw them win the British Universities and Colleges Sport Championship for the first time in four years.  The men's Futsul firsts, women's judo firsts and women's volleyball team also featured on the shortlist.
The Mountaineering Club won the Club of the Year Award from a shortlist that also featured the Badminton Club and Trampolining Club.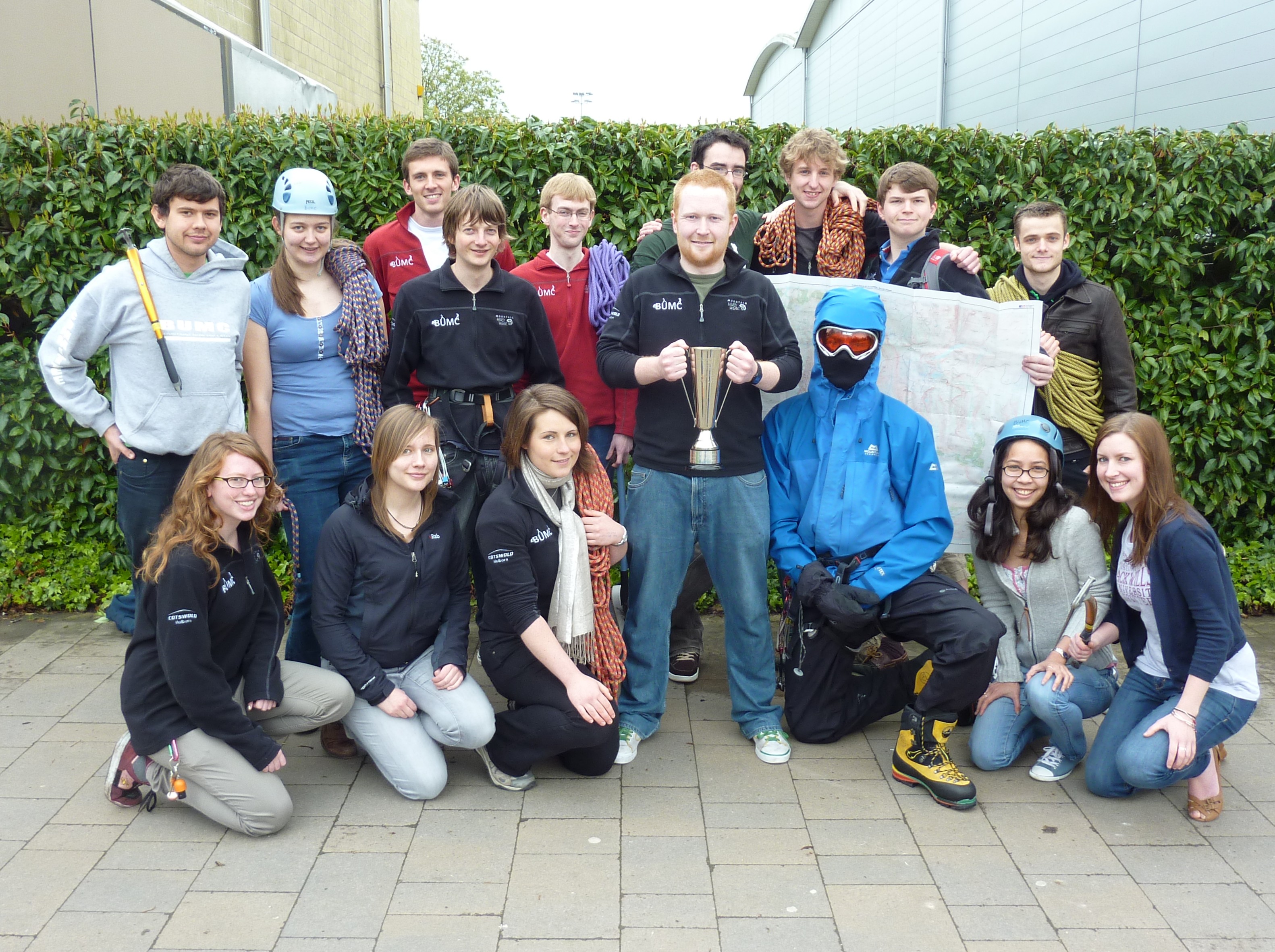 Aaron James, the University's head rugby coach, won the Ivor Powell Award for Coaching Excellence.
There was also an Honorary Blue for University of Bath-based hurdler Dai Greene. Greene is currently fine-tuning his preparations for the Olympics having added the World Championship crown last year to the European and Commonwealth titles he won in 2010. Unfortunately Dai was unable to collect his Honorary Blue and it will be presented to him at a later date.
The annual Blues Awards are traditionally one of the highlights of the student sporting calendar in Bath  and pay tribute to Unviersity of Bath students who excel in sport. They are organised by the Students' Union Sports Association.
Special Awards
Sports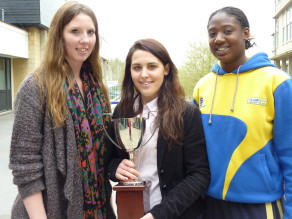 Personality of the Year: Alex Huttunen (badminton)
Shortlisted: Jess Dickons (swimming), Jack Green (athletics), Michael Jamieson (swimming), Andrew Willis (swimming)
The Gethin John Bevan Club Member of the Year: Colin Field (gliding)
The Tugendhat Trophy for Sporting Endeavour: Matthew Smith (water polo)
The David Vandelinde Award: Shaun Mitchell (judo)
The Ivor Powell Award for Excellence in Coaching: Aaron James (rugby)
Martyn Hedges Award: Pete Bush (badminton)
BUCS Team of the Year: Netball
Shortlisted: Futsal, Judo, Volleyball
Club of the Year Sports: Moutaineering
Shortlisted: Badminton, Trampolning
Honorary Blues
Chris Clements
Colin Field
Dai Greene
Polly Hawker
Full Blues
Association Football & Futsal: Emily Deaman, Hector Mackie
Fencing: Abbi Matthews, Matthew Edgar
Hockey: Zoe Shipperley
Rowing: Nicki Godbold
Tennis: Stephanie Cornish
Half Blues
Archery: Amyce Aurora-Smith
Association Football & Futsal: David Jennings, Sam Dorin
Badminton: Andrew Kidger, Panuga Riou, Vikki Primmer
Hockey: Danielle Black
Netball: Lois Rideout, Mia Richie
Rugby: Sam Miller, Jamie Collins, Matthew Keyte, Tom Meatyard, Zac Vinnicombe
Tennis: Caroline Rosamond, Richard Abbott, Stephen Knowles
Triathlon: Christopher John Kiely
Colours
American Football: Dominic Chaopradith
Association Football: Kathryn Hawkins, Louise Goode, Robin Nicholls
Badminton: Andrew Kidger, Hannah Wilkie, Jessica Hill, John-Paul Cosgrove, Jun Tao, Lauren New , Vikki Primmer
Basketball: Alix Floyd, Emma Britton (basketball/netball), Enrique Garcia Bourne, Katie McGibbon, Matthew Blair, Rebecca Stevens. Tom Janicot
Canoe Club: Gail Watts, Jonathan Howell
Cricket: Anna Ross
Floorball:  David Corcoran, Dom Gillan, James Knowles, Joe Darcy, Joe Duncan , Mark Crabtree Matthew Sellars , Scott Bennett
Golf : William Butler
Gymnastics : Caitlin Elliott , Edward Nice, Kasha Smith
Hockey: Alexander J V Hewson,  Alexander Urquhart, Conrad Langridge, Elizabeth Rose Cattle, Gabriella Lucy Singleton, Guy Bishop, Hannah Davies,Jacob Bowman, Katie Heard, Matthew Sloper, Nkoni Nicholas-White, Steven Wilkins, Jessica Cremin , Tancred Porteous
Jiu Jitsu: Daniel Firth, David Tregurtha, Graeme Kirkwood, Matej Benka
Lacrosse: Camilla Swift, Charlotte Copson, Clementine Turner-Powell, Eve Florence Simpson, Hayley Gyere, James Talbot , Natalie Laura Greening, Samuel Scott , Sian Barnett
Netball: Alice Wilson, Charlotte Crow, Emily Nicholls, Hannah Ings, Helen Bate, Laura Mallinson, Stephanie Gubas
Riding: Charlotte Neal
Rowing: Graham Davis , Robert Good, Oliver Horncastle, Simon Benjamin Smith, William Stride
Rugby : Charlotte Young , Michaela James , Robert Good
Sailing : Alexander Mathews
Tennis: Caroline Rosamond, Marianne Lancaster , Steffi Colyer
Snowsports: Anna Ross, Robert Wagner
Trampolining: Rebecca Haywood-Farmer
Ultimate Frisbee Thomas Fox
Water Polo : Francesca Paolella, Helen Davidson, Holly Jackson, Kathryn Baker, Rebecca Cook, Rebecca Sherren , Matthew Smith
Honorary Colours
Association Football & Futsal: Kat Hawkins
Badminton: Alex Huttunen
Basketball: Tom Janicot
Canoe: Gail Watts
Gliding: Toby Ayre
Gymnastics: Helena Bleasby
Mountaineering: Owen Tomlinson
Rugby: Adelaide Young. Alasdair Dawson
Sports Association Executive: Tom Lacey, Chris Kiely, Alex Huttunen, Dom Chaopradith, Owen Tomlinson, Rachel Seymour
Tennis: Fiona Sim
Volleyball: Holly Stock
IDEALS Zambia Project: Jordan Kenny, Josh Atkinson,  Paul James, Rebecca Cook
For further information please contact the Team Bath press office at Matchtight Ltd on 01225 383518 or by email at press@matchtight.co.uk
You can also find out more about Team Bath at www.teambath.com , follow us on Facebook at www.facebook.com/teambath or on Twitter at https://twitter.com/#!/teambath
The University of Bath is The Sunday Times University of the Year 2011/12.
Photos:
From top: Alex Huttunen & Pete Bush with their trophies
Alex with his Sports Personality Award
Members of the Mountaineering Club with their Club of the Year Award
Kat Hayes, Mia Ritchie and Kadeen Corbin of the netball firsts, winner of the BUCS Team of the Year Award