Posted 30th Apr 2012
Team Bath face Dragons for place in Superleague Showdown
Team Bath face a home battle against Celtic Dragons in a sudden death play-off for a place in the end of season Superleague Showdown after going down 68-43 to Northern Thunder at the University of Bath tonight (Monday).
Thunder ran away with the game in the second quarter and took the three points despite a spirited late rally from Team Bath that saw them win the final quarter 13-7.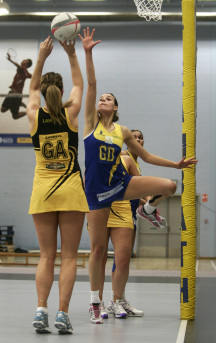 Tonight's defeat means Team Bath will finish fourth in the top tier of the Fiat Netball Superleague, whatever happens on their trip to Surrey Storm on Saturday (5 May). That means they face a play-off against Celtic Dragons, who have comfortably topped the bottom tier, at the Sports Training Village on Monday 14 May.
The winner of that one will progress to the Superleague Showdown weekend on 19 and 20 May when the 2012 Superleague champions will be determined.
Tonight's game saw a first Team Bath Superleague home start for Chantelle Wopara and also a Superleague debut for Millie Grey.
Jess Garland, Team Bath head coach, said: "I was disappointed with the margin today, but there were a lot of positives we can take from the game.
"We did some good things throughout the game and I was proud of those," she added, "We needed to build our confidence and momentum in the way we were playing and we did that.  The people introduced to the game put their hands up and did a good job.
"We've got a one-off game against Celtic Dragons now and I'd appeal for our fans to get behind us for that one in the way they did in the final quarter today," she added.
Captain Asha Francis added: "There was a maturity coming through to the side now, but we need to be more clinical in the way we punish teams. We've got to make sure we right the wrongs when we play Dragons."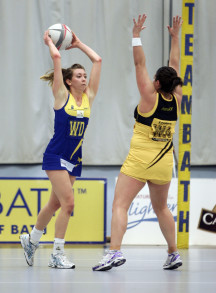 Thunder made the stronger start to the game, but Team Bath scored twice in quick succession towards the end of the quarter to peg them back at 16-11. They could have drawn heart from that, but Thunder then scored three times in the dying moments to end the quarter 19-11 up.
With Lawson and Grieg both on song for the visitors, Thunder stretched their lead to 26-11 scoring seven goals without reply at the start of the second quarter, before Kadeen Corbin settled things down with three goals in a row following some good combinations with Mia Ritchie, the latest in a long line of Team Bath players to have become senior England internationals.
Despite Team Bath's best efforts, Thunder dominated a 37-goal second quarter to stretch their lead to 44-23.
Wopara had needed treatment for an injury in quarter two and made way for Corbin at half-time allowing the England international to show that her athletic prowess and competitive instinct are as much at home in either shooting circle as she forged a strong defensive unit with fellow England international Gemma Fletcher.
Kat Hayes, meanwhile, came on at goal shooter for Team Bath and formed an equally impressive partnership with captain Francis, while Millie Grey also impressed coming on at wing defence for her first taste of Superleague action.
Team Bath worked the ball through the court well, building on some strong interceptions by Corbin and Fletcher and some good work in midcourt by Ritchie and Grey.
With the score at 61-30 at the end of the third quarter, Team Bath heads could have dropped. But if anything it spurred the team on.  Corbin's competitiveness saw her sidelined by the umpires for persistent contact, leaving Team Bath with just six players, and only one circle defender, on court for just over a minute.
That angered the home crowd, who cheered the team on to a late rally as Team Bath played with more of the freedom that coach Garland had called for ahead of the game, with both Francis and Hayes showing their cool in the shooting circle.
Team Bath showed their mettle by taking the final quarter 13-7 – but Thunder travelled home north with the points.
The Team Bath v Northern Thunder game will be shown 'as live' on Sky Sports on Thursday 3 May and Friday 4 May – see TV listings for details.
Team Bath will now face Celtic Dragons at the Sports Training Village on Monday 14 May in the play-offs. Tickets should go on sale on Tuesday 1 May. Please check the Team Bath website at www.teambath.com for the latest details.
Tickets will be available to buy online at http://teambath.ticketline.co.uk/ or by calling by calling or call the Ticketline on 0844 888 4412. For group bookings please call 0844 888 4420.
Team Bath v Northern Thunder
Quarter scores (Team Bath first): Q1 11-19, Q2 12-25 (23-44), Q3 7- 17 (30-61), Q4  13-7 (43-68)
Team Bath starting seven: GS Asha Francis (capt), GA  Kadeen Corbin, WA Yasmin Parsons, C Mia Ritchie, WD Becky Watkins, GD Gemma Fletcher, GK  Chantelle Wopara
Q2 injury time out:  Corbin to GS, Francis to GA. Q3 changes: Kat Hayes to GS, Millie Grey to WD, Corbin to GK. Q3 injury time out: Trounce to WA. Q4 changes: Corbin to GD, Fletcher to GK Bench (not used):  Kate McKinley
Northern Thunder starting seven:  GS Karen Grieg, GA Janelle Lawson , WA  Beth Cobden, C Sara Bayman (capt) , WD Laura Malcolm, GD  Emma Dovey, GK  Kerry Almond
Q3 changes: Lawson to GS, Kathryn Turner to GA, Rachel Henry to WA, Malcolm to C, Bayman to WD. Q3 injury time out changes:  Eleanor Caldwell to GK, Grieg to GS.  Q4 changes: Krista Enziano to GA
Bench (not used): Dani Bloomfield
Shooting stats:
Team Bath
Kadeen Corbin – 16 from 18 (89 per cent)
Asha Francis – 17 from 19 (90 per cent)
Kat Hayes – 10 from 17 (59 per cent)
Northern Thunder
Karen Grieg – 24 from 26 (92 per cent)
Janelle Lawson – 32 from 37 (87 per cent)
Kathryn Turner – 8 from 8 (100 per cent)
Krista Enziano – 4 from 7 (57 per cent)
For further information please contact the Team Bath press office at Matchtight Ltd on 01225 383518 or by email at press@matchtight.co.uk
You can also find out more about Team Bath at www.teambath.com , follow us on Facebook at www.facebook.com/teambath or on Twitter at https://twitter.com/#!/teambath
The University of Bath is The Sunday Times University of the Year 2011/12.
Photos: Digitalscape