Posted 15th Mar 2012
The University of Bath are BUCS netball champions
University of Bath netballers are celebrating winning the British Universities and Colleges Sport Championship (BUCS) for the first time in four years.
The University of Bath team beat Leeds Met Carnegie 72-60 in last night's championship final in Sheffield.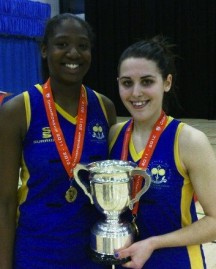 The two teams were closely matched in the opening half, but the third quarter proved to be decisive, with the University of Bath taking it 20-13, and then going on to stretch their lead in the final quarter.
Sports Performance student Mia Ritchie, who captained the team, said: "We always knew it was going to be a tough final. It was goal for goal at the start, but we managed to pull through.
The University of Bath squad featured a number of Team Bath's Fiat Netball Superleague players, with the Leeds line-up featuring players from Superleague side Yorkshire Jets.
Many of the Bath students will be back in action tomorrow night (Friday) when Team Bath host Surrey Storm in the Superleague.
"We're all team-mates but we're also close friends and I think that really helps," she added. "Playing together in BUCS matches and in the Superleague gives us a real cohesion."
Last night's victory made it a particularly good week for Ritchie, who was also called into the England senior squad for the matches against Barbados.
The University of Bath team was coached by Emily Perry, with Denise Ellis as assistant coach.
University of Bath starting seven v Leeds Met Carnegie:  GS Kadeen Corbin, GA Kate McGinley, WA Mia Ritchie (capt), C Millie Grey, WD Becky Watkins, GD Scarlett Williams, GK Hannah Taylor.
Q2 changes: Kat Hayes to GS, Corbin to GA, Yasmin Parsons to WA, Ritchie to C. Q4 changes: Corbin to GS, McGinley to GA. Bench: Lois Rideout, Neala Brennan.
Quarter scores (University of Bath first): Q1: 18-15. Q2: 17-17 (35-32), Q3: 20-13 (55-45), Q4:  17-15 (72-60)
Book your tickets now for Team Bath's phase Superleague two home fixtures at Ticketline or by calling 0844 888 4412. For group bookings please call 0844 888 4420.
For further information please contact the Team Bath press office at Matchtight Ltd on 01225 383518 or by email at press@matchtight.co.uk
You can also find out more about Team Bath at www.teambath.com , follow us on Facebook at www.facebook.com/teambath or on Twitter at https://twitter.com/#!/teambath
The University of Bath is The Sunday Times University of the Year 2011/12.
Photo: Kadeen Corbin and Mia Ritchie, who are both Jeff Trendell Scholars, with the BUCS Championship trophy.