Posted 19th Dec 2011
Netball fans enjoy free preview opportunity as Team Bath face All Stars
Netball fans were treated to an early opportunity to see Team Bath's 2012 Fiat Netball Superleague squad in action as they took on an All-Stars team in a charity match at the University of Bath.
Sporting stars from the University of Bath joined England netball internationals and local media in the fun contest, which raised money for the Mayor of Bath's Relief Fund.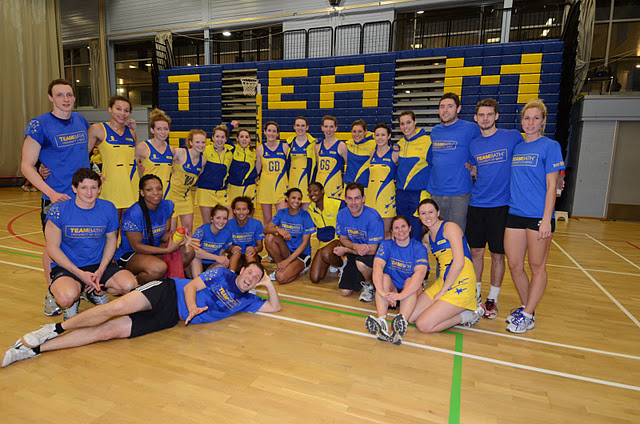 Around 400 netball fans took advantage of the opportunity to get an early glimpse of Team Bath's young 2012 Superleague team.
They faced the might of an All-Stars team featuring Beijing 2008 Olympic swimmer Kris Gilchrist and Michael Jamieson, a silver medal winning swimmer at the Delhi 2010 Commonwealth Games. Both train at the British Swimming Intensive Training Centre at the University.
They were joined by Paralympic swimmer Kate Grey – who had an intriguing midcourt battle wit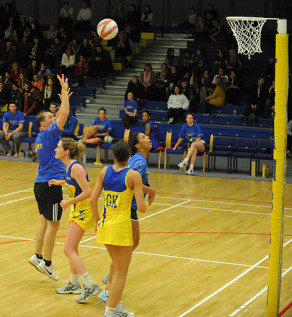 h her sister Millie, who features in Team Bath's Superleague squad for the first time for the coming season.
George Farrant, an England under-21 hockey player, and Katie Heard, captain of the University of Bath women's hockey seconds, both impressed in the shooting circle, while head rugby coach Aaron James also impressed without needing to resort to tackling his opponents.
The All-Stars featured a trio of England internationals – Eboni Beckford-Chambers, Stacey Francis and Serena Guthrie.
Michael Jamieson said he enjoyed swapping the pool for the netball court. He said: "It was great fun and I was really pleased to be involved."
Team Bath included Kadeen Corbin – the latest in a long line of senior England internationals to come from Team Bath – with Sam Cook, Kat Hayes, Kate McGinley and Becky Watkins among the next generation of Team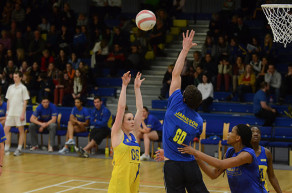 Bath Superleague players to feature.
The crowd, which included Mayor of Bath Councillor Bryan Chalker, enthusiastically supported the two teams.
But the biggest cheer of the night was reserved for enthusiastic ITV West Sports Correspondent Matthias Kurth, who netted a goal with the last touch of the game.
Players and fans were then invited to a post-match reception at The Tramshed in Bath.
Jess Garland, Team Ba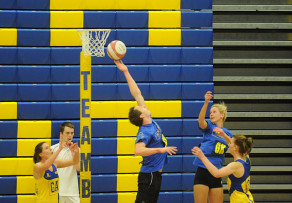 th's head coach, said: "It was a fantastic event. We often say we've got the best netball fans in the country and we wanted to give them an opportunity to see our 2012 squad for free before the season gets underway.
"It proved to be an entertaining and often amusing game, which the players didn't have to take too seriously, but it was also a useful workout for the team," she added.
And as for the final score – Team Bath ran out 68-36 winners – a score that was boosted by Team Bath charitably offering the All Stars five goals for each one scored in the final quarter.
Thanks again to the full All-Stars squad of Eboni Beckford-Chambers, Stacey Francis, Serena Guthrie,Katie Heard, Kate Grey, Kim Oliver, Lizzie Smith, George Farrant, Matthias Kurth, Kris Gilchrist, Michael Jamieson, Aaron James and Jack Cuthbert.
Team Bath get their 2012 Superleague campaign underway on Friday 20 January with a trip to Celtic Dragons. The play their first home game on Monday 30 January, when they host Northern Thunder in a televised fixture.
All photos by Sam Farr.